Hostgator Review & Coupon
Wednesday, June 24, 2009 1:31
Steps to Get 1 Month Hosting For Free From HostGator
HostGator is a world leading company in the shared webhosting space. Honestly, it is a choice that you can not go wrong with. In this post, I will show how to get you first month for 1 cent (almost free). Try it, if you do not like it, cancel (You Lose Nothing), Here is what you have to do:
Click on Sign Up
Choose shared hosting option
Choose "I will use My Existing Domain": Do NOT Register Domain through Hostgator as They Have Expensive Registration.
Write Down Your Domain Name (So You Can Host it on HostGator), and Click on "Continue"
Choose Package to "Baby": Baby package offers more than what 99% of webmasters need. Click Continue
Enter the Coupon: hostgatorcoupon to Get The First Month Free
Click on Calculate Total, and Your First Month Should Be for 1 Cent ONLY
Pay the Cent, and Try Them for 1 Month. if You Did Not Like Them Cancel and You Are Done.
Here is a picture that represents what you should see after you input the coupon: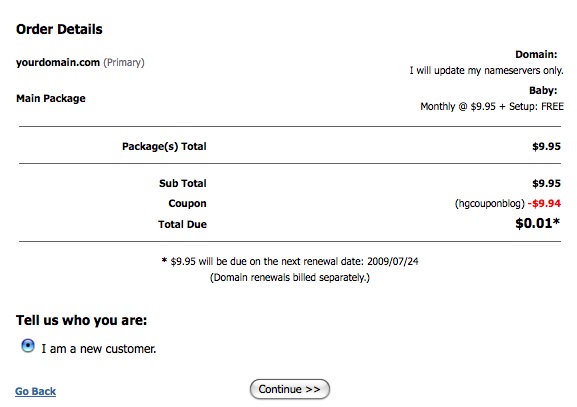 Hostgator: Good or Bad?
Hostgator is one of the most respected shared hosting companies in the world. They offer very affordable, and reliable shared hosting plans. The biggest two advantages of Hostgator are:
Their plans are month to month: you do not need to prepay for entire year when you sign up. ALL other solid hosting companies ask you to prepay for 1 year.
They offer coupons that give you the first month free. Use this coupon: hostgatorcoupon
You can use the coupon to try their hosting for free for the first month. If you like their hosting, stick with them. If not, you can switch to other hosting companies like fatcow, which we strongly recommend also. After the first month, you will be paying $9.95 per month for hosting. Paying that monthly fee is not too much, however, you can get cheaper deal if you use other hosting companies that ask you to prepay for entire year. If you have very tight budget, you may consider using host like FatCow and prepay for entire year to save few dollars on the monthly fee. Read our FatCow Review to learn how can you get hosting for entire year for $46 including free domain.
Hostgator hosting plans
Hostgator most popular shared hosting plan is the Baby plan which comes with support for unlimited domains (host as many domains as you want), unlimited disk space, and unlimited bandwidth. They guarantee 99.9% uptime guarantee, free scripts like wordpress, online web site building software and more. Furthermore, you have a 30 day money back guarantee, this let you try the plan and the company and make a decision within 30 days. We think you like Hostgator, they have been online for long time and most their customers that we know are happy.
Hostgator offers another plan called Business plan. It offers Anonymous FTP, Private SSL Allowed, and Dedicated IP. The plans costs $12.95 per month. I am going to honest with you and say that these extra features is not worth the extra $5 on the monthly fee. The only reason you may consider using the Business plan if you consider launching shopping cart website and you are very concerned about your website security.
Finally, we strongly recommend you to avoid the Hatchling Plan as it offers hosting for one domain ONLY. Trust me, 99% of webmasters own more than 1 domain.
Ruby on Rails & HostGator
If you do not use Ruby Programming language, you possibly do not care about this. HostGator is one of the very first companies that supported Ruby on Rails. They were allowing you to run mongrel in a shared environment. It was quite painful to configure the rails application to run on their boxes, but it worked. I personally ran rails app on HostGator before 2 years. Now, HostGator supports the popular rails passenger (mod_rails) and this makes running rails on their shared environment is very easy.
Hostgator summary
Main Pros
Month to Month
Very Reputable
Try it Free for first month
Main Cons
It is not the cheapest host
They do not offer free domain registration for new customers. Most other hosts offer free domian
Expensive domain registration: they charge $15 for domains which are available for $7-$10 on most other hosts.
You can follow any responses to this entry through the
RSS 2.0
feed.
One Response to "Hostgator Review & Coupon"
Leave a Reply